EVENTS
TECHNOLOGICAL EVENT
La Casa de la Seda opened the doors to debate about technology and humanities during the Mobile World Congress. It was organized by the House of Beautiful Business who put their heart in it and the result was amazing.
Audiovisuals: Quim Clark Productions
Organizer: The House of Beautiful Business
Catering: Sauleda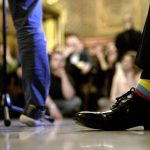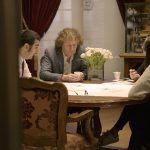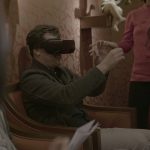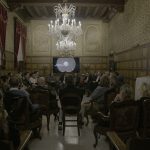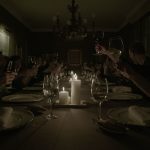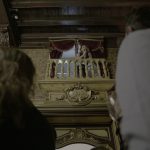 PRESENTATION OF TRUSSARDI FRAGRANCE
There have been many events in our venue but this presentation of Trussardi was one of the best. Joan Estrada Special Events' team achieved an elegant, welcoming and tremendously creative result with all kinds of details.
Audiovisuals: Quim Clark Productions
Organizer: Joan Estrada Special Events
Catering: Esther Conde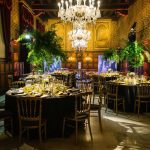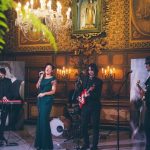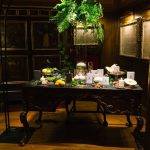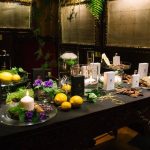 AIRLINE PRESENTATION
United Airlines chose la Casa de la Seda and its central location to host its presentation. This new airline was arriving to Barcelona and they organized a magnificent cocktail to celebrate it. They did not miss on anything. Quim Clark Productions put its best professionals to set up the stage and Airolo Cateringprovided quality products for the most demanding palates.
Audiovisuals: Quim Clark Productions
Organizer: United Airlines
Catering: Airolo Catering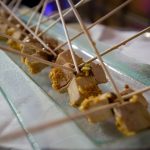 PHOTOSHOOT
The romantic side of La Casa de la Seda came to light in this special photo session. The know-how of the great professionals was reflected with some wonderful photographs.
Planner: @nataliaortizwed
Photography: @kobruseva_photography
Muah: @oui_novias
Florist: @florafloralartbarcelona
Dress: @cristinatamboreroatelier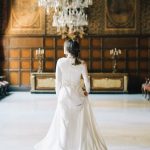 60TH BIRTHDAY CELEBRATION
The space can be adapted to private celebrations such as a birthday party. The entire House of Silk is available to the client in exclusivity. In this case it was a classic and very cozy celebration.
Audiovisuals: Quim Clark Productions
Catering: Airolo Catering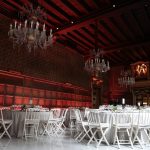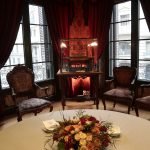 ICE CREAM TV ADVERTISEMENT
A sofa located in the main room of the house, the Guild's Room, a model in the center of the sofa and an irresistible ice cream were the elements that made this ad a very suggestive proposal.
Production Company: Mosquito Producciones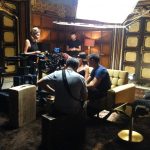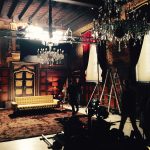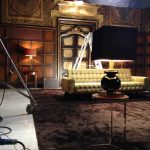 SUPERMARKET TV ADVERTISEMENT
The characters are sitting at a table around the products, a travelling shot is showing the tension that reigns in the space.
Production Company: BADCAT
CORPORATE COCKTAIL
Among the different types of events, a cocktail-type corporate dinner can be a more informal and entertaining option for attendees.
Audiovisuals: Quim Clark Productions
Catering: Airolo Catering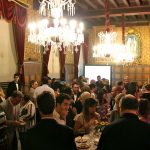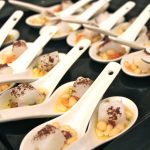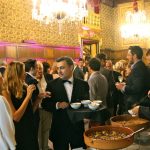 GALA DINNER
After a two-week cruise through Spain and Portugal, the last days have to be special. After two days visiting the most emblematic places of Barcelona, we finished with a gala dinner in our lounge.
Agency: Tauck Tours
Catering: Singularis
Audiovisual aid: Quim Clark Productions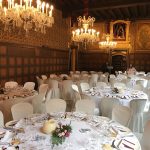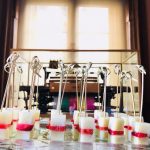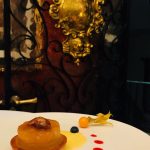 FILMING SHOWREEL
La Casa de la Seda became a vintage set thanks to the actress Verónica Isola and her team who took us to the early 1900hs. She came back later as Elisabeth, a 16th century Queen of Spain. All together an exquisite work.
Actress: Verónica Isola
Director: Pol Digger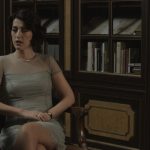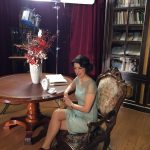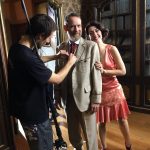 Casa de la Seda
Sant Pere Més Alt 1 – 08003 Barcelona (Corner of Via Laietana)
info@casadelaseda.com
+34 93 310 77 78
www.casadelaseda.com
Bus Lines: V15, V17, 45
Barcelona Tourist  Bus (route blue and red):
Stop Plaza Cataluña.
City Tours (Barcelona Tours):
Stop 2, Gòtic.
Metro Urquinaona: L1, L4
Metro Jaume I: L4
RENFE: Station Plaça Cataluña
FGC: Station Plaza Cataluña
Parquing SABA Pl. Urquinaona, Pl. Cataluña and Catedral